Coven Egidio ringrazia per la grande affluenza al nostro stand 3-C08b a Cosmoprof Asia a Hong Kong dal 15 al 17 Novembre al padiglione Asia World Expo (AWE), vi aspettiamo l'anno prossimo!
Coven Egidio Snc thanks all the visitors who visited our booth 3-C08b at Cosmoprof Asia 2016 in Hong Kong from the 15th to the 17th of November at Pavillion Asia world Expo (AWE), we hope to see you next year!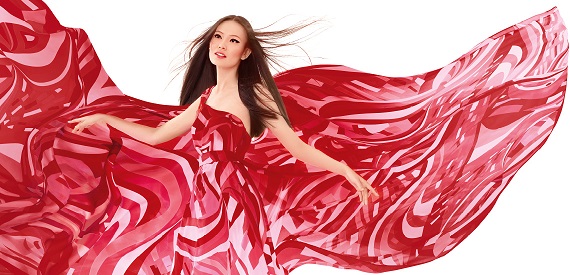 A quick timelapse done with some travelling and show time footage taken during the latest Beauty world middle east show in Dubai may 2016
In occasione di Cosmoprof 2016, Coven Egidio ha lanciato un nuovo prodotto, DV98-6P:
DV98-6P è una dosatrice a livello semiautomatica pneumatica derivata dalla supercollaudata dv98; aspira il liquido creando il vuoto all'interno della bottiglia per mezzo di un eiettore pneumatico.La versione 6P è indicata per il confezionamento di singoli flaconi personalizzati. Infatti i sei ugelli presenti nella macchina possono erogare altrettanti sei differenti fragranze senza apportare alcun cambiamento ai parametri macchina.Questa configurazione è particolarmente indicata per negozi o piccole profumerie praticanti vendita diretta.
Il video link qui di seguito ne mostra il funzionamento: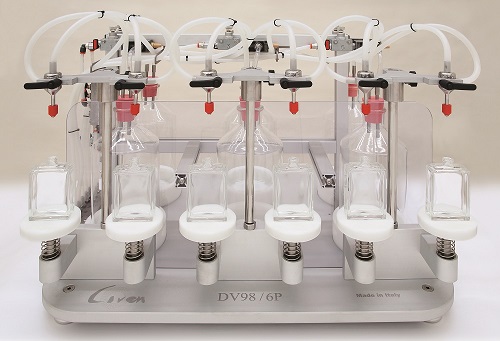 Coven Egidio launched a new product during Cosmoprof 2016, DV98-6P:
DV98 - 6P is a vacuum semiautomatic pneumatic filling machine, a renewed bigger version of Coven's best seller DV98, it is designed for filling different fragrances at the same time. The 6 nozzles can fill 6 different fragrances without changing parameters on the machine, that's why this version is indicated for shops or small perfume manufacturers with a direct sale.
Watch the machine in action at the following link: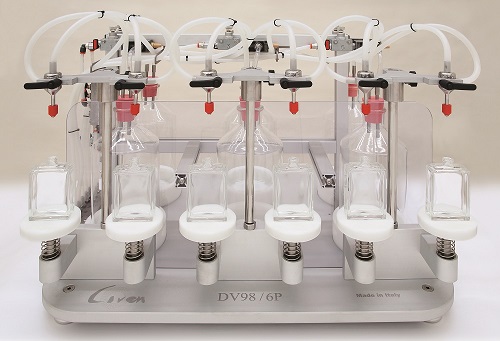 Grazie per aver visitato il nostro stand a Cosmopack 2016!
Thank you for visiting us at Cosmopack 2016!