COVEN EGIDIO @ BEAUTY WORLD MIDDLE EAST - DUBAI 2019
FROM THE 15TH TILL THE 17TH OF APRIL
DUBAI WORLD TRADE CENTER - PAVILLION 1 - BOOTH C12
COME AND MEET US AT OUR NEXT TRADE SHOW, IN DUBAI AS USUAL!
BEAUTY WORLD MIDDLE EAST IS ON FROM THE 15TH TILL THE 17TH OF APRIL
AT DUBAI WORLD TRADE CENTER - PAVILLION 1 - BOOTH C12

We had a busy show in Bologna last week. We'd like to thank you for your time and visit.
See you in 20 days in Dubai!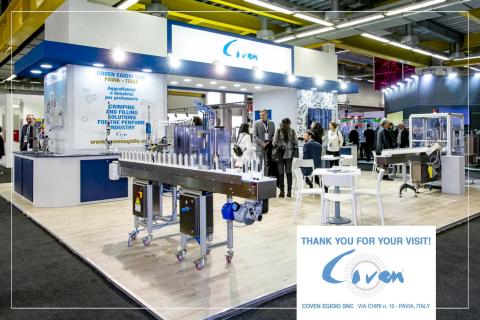 Back from COSMOPROF BOLOGNA 2019 press conference in a stunning location of Milan!
Coven Egidio this year will be exhibiting in the brand new S.M.A.R.T area (Solution, Manufacturing, Automation, Research & Technology) set up at pavillion 19PK, in a new location dedicated to the Packaging sector
Come and visit us at our enlarged booth B10/C9PK!